Anxiety and travel-here are 7 strategies that I find helpful
Travel is fun-anxiety is not
Do you have anxiety and like to travel? I have some things that are helping me. 
Note: I am not a doctor or in the mental health profession. These are things that help me, but may not be right for everyone. Please reach out to a health care professional if you are struggling with anxiety.
Me and my anxiety-travel edition
You know how there are some people that have "traveler" almost baked into their identity? Well, that is what I want for the next phase of my life. I have heavily identified as a mom, as a broke and frugal person, and as a grad student and academic. Now I want people to think of me and think of traveling. But I have another part of my identity that has clung to me throughout every phase: anxiety. 
I am a person who carries a lot of anxiety around with me. It is like my little buddy. I am going along through my day and then, Hello-there it is. I have tried medication and therapy in the past, and I now have a rescue medication for very bad days. But honestly I have come to think of anxiety as just something that must be managed. I don't really hear people say, "I used to have anxiety." I can function quite well in my day-to-day, but there is a corner of my brain always in overactive mode, watching for bears and lions.
You know Bob from What About Bob? He is my patron saint of travel. Although Bob had lots of anxiety that made his life hard, he decided to find ways to do what he wanted to do. He got to the point where he didn't want to be held back anymore. He would try new things, even if they scared him. I want to be more like Bob.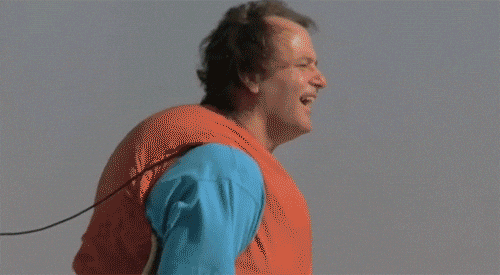 Bob didn't just wake up one morning, ready to tackle the world. He had help from his psychiatrist. He took Dr. Marvin's advice and started implementing changes into his life. In the same way, I view my ability to identify my anxiety triggers and symptoms and find some workarounds to be my very own baby steps. I will share some of my strategies now.
Learning how to cope-travel edition
Over the past few years, I have started identifying anxiety for what it is, and have started recognizing its symptoms when they crop up in random ways. More recently, I have made the decision that I don't want it to hold me back. My plan of action is to identify its symptoms, see if I can rationalize them away or if they are a chronic thing. If they are chronic, I then seek out ways to accommodate and alleviate those symptoms. 
Once upon a time, I would have felt dread and found excuses to not do something. Now I force to think about where the dread is coming from, decide if the dread is based in fact, and then decide if I want to confront it and do the thing. Sometimes I don't, and that is okay. There are many options in the world, and I can say no or opt for something else. But if I deem the thing I want to do is worth facing the dread, then it is time to face it. Travel is a thing that is worth facing the dread for. 
Travel puts me in new environments, and in new environments, I don't even know where the bears and lions might lurk! So traveling spikes my anxiety. I am not afraid of flying, not even a little bit. But we went to Disneyland when I was a teenager, and my dad got sick and had to have a major surgery. My sister came down and got the kids because we had her daughter and it was school time.  My mom stayed behind to be with Dad. She was stuck in a campground trying to figure out how to operate the systems of a very large motorhome and get to the hospital without a car.
That experience (and some others) have left me afraid of getting sick while on vacation. I am also fearful of forgetting something important, getting lost, and car troubles.
Practical strategies I use when coping with anxiety and travel
For some of these issues, the only way to confront them is through cognitive behavioral therapy or lots and lots of positive self-talk. I do a bit of both. But I will talk about my more concrete solutions to some of the issues, starting with my fear of losing something important.
I am terrified that I am going to forget something in the airport or not have access to something I need during the flight. This causes me to have to check for things like my ID, wallet, phone, sunglasses approximately 150 million times before boarding. 
I really like to travel carryon only, the smaller the better. I have a roller case that I like, but I want a backpack that can fit under the seat, and a purse that can fold into the backpack. 
During our last trip (to beautiful and amazing Kauai, more on that in upcoming posts), I really thought about the bags and the anxiety. I paid attention each time I was irritated by my bags, and what things worked. 
Each time I go into a store, I almost immediately forget everything I wanted in a bag. So, while in Hawaii, I started a Google Doc with a list of requirements for each bag. I am going to list them here because some of them were things I didn't even know I wanted until I really thought about it. For instance, so many bags are black inside. Trying to find something in the bag is so difficult. I discovered that some companies make their linings in light or bright colors and my mind was blown! It makes such a huge difference. In case the lists are useful to others, I will include them here. 
Under-seat travel bag requirements
Outside pocket that fits wallet, keys, sunglasses in case, eyeglasses in case, phone-prefer it to zip

Front organizable pocket
2 deep water bottle holders
U-shaped large opening (lie flat a bonus)
Something on the straps that allow me to clip things to the straps
Light-colored interior
Colorful a plus
Comfy straps
Small enough to fit under the plane seat, large enough to fit everything as solo bag
Purse needs
Folds thin

Roomy pouch (size of my day bag)
Light color inside
Quick grab front pocket-big enough for phone
Cross body
All pockets zip

I am happy to report that within a week of writing these lists, I found not one, but both of the bags I was looking for!! The purse is an ebags with everything including a water bottle holder and a side glasses zip pocket. I found it at a thrift shop for $8. The next day, we went to Buffalo Exchange. I found a Swiss Gear backpack that has everything I wanted and has a place for a battery and cords for charging. It isn't exactly this bag, but it is close. The one I found is no longer made. It retailed for $129. I got it new with tags for $29! 
So now I can do my checking easily, and then zip so that I know the things won't fall out between now and 3 minutes from now when I must check again.
More coping mechanisms
I have lots of other things I have started to do to help alleviate the anxiety.
I try to sketch out a general itinerary for each day. This often gets tossed aside, but having it and knowing some highlights in helpful.

I use Google Maps and street view to see the places I will be going. That visual is really helpful.
If I am traveling by myself, I will add Facebook to my phone. I like to be able to detach from it, but it is great for reaching friends or family if I get stuck.
Read lots of reviews of where we are staying, eating, and playing.
Before we go, I like to find the mundane things like where the good grocery stores are.
I am learning to be okay with changes if something is causing too much stress. I can switch to a Plan B or C is Plan A is not working out.
Key takeaways
It is okay to have anxiety! For some reason, anxiety is a disorder that people feel comfortable poking fun at. But it is a legitimate mental health disorder and you are not a bad person because you have it.

If you get anxious when you travel, please know that you are not alone.
In addition to your usual anti-anxiety, it may be helpful to come up with travel-specific anxiety accommodations.
It is good to think about those travel anxiety needs when you are traveling, and write them down to implement during each trip. Using Google Docs on your phone is excellent for this.
Accommodations might include:

the location of your trip
what type of transportation you choose
the style of bag you choose
route planning, setting itineraries and budgets
therapeutic methods such as cognitive behavioral therapy
prescription medications
Anxiety is no fun, but I am trying very hard not to let it live my life for me.